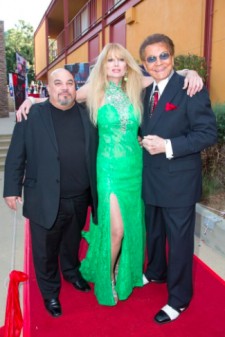 This international festival united the diverse worlds of film, fashion and finance.
Rolling Hills Estates, CA , April 3, 2017 (Newswire.com) - On ​​​​Sunday, April 2nd at 5pm, the Universe Multicultural Film Festival held their Red Carpet Awards Ceremony at the RHCC Community Center in Rolling Hills Estates.
Celebrities in attendance from the event were Lynn Tang, Festival Founder and President, Awardees Aki Aleong (Babylon 5, Walker, Texas Ranger), Mel Novak (Bruce Lee's Game of Death, Chuck Norris' An Eye For An Eye), Laurene Landon (Maniac Cop, Sky, the #1 trending movie on Netflix opposite Norman Reedus) and presenter actor/filmmaker Thomas J. Churchill (Check Point, Lazarus: Day of the Dead). Aleong received the Lifetime Achievement Award, Landon received the Trailblazer Award, and Novak received the Living Legend Award.
The Universe Multicultural Film Festival seeks to bring to the best of classic and contemporary filmmaking from the world and is committed to enlightening the public with a unique international film program, a forum for cultural understanding and enriching educational opportunities. The Festival focuses on showcasing diverse cultural and heritages films, supports the creation and advancement of innovative and artistic cinematic works of both emerging and seasoned filmmakers and proudly embraces the passion, independent spirit and vision of these talented artists. With the integration of the local community and educational institutions into all aspects of the Festival, this Festival stimulates an interest in the study and appreciation of film and encourages people of all ages and background to participate and share the harmony of the universe. In addition to the awards ceremony, this three day festival will have screenings, panels and a fashion show.
This prominent festival was founded by Lynn Tang. Ms. Tang is a film and Broadway musical producer. She is the executive director of Universe Multicultural Film Festival; director of San Diego International Kids' Film Festival; Founder of Epic ACG Fest; Chairwoman of Maeya Art Festival.
As a film producer, her feature movie "Hiding Sword " (in China and Hollywood) won the best actor & actress awards at the Los Angeles Nollywood Film Festival. Recently, she served as the executive producer of the Hollywood film "Senior Entourage" starring Hollywood Icons Ed Asner, Mark Rydell, Dick Van Dyke, Helen Reddy; Marion Ross and Charlie Robinson.
As a Broadway musical producer, her production "Chen Ying Rescuers the Orphan "made to Dolby Theater (Oscar award Home theater) in October 2016. It become the first Broadway Musical to debut at in Dolby theater in history.
For the past 5 years in a row, she has been appointed as the film jury and international commissioner of Seoul Guro International Kids Film Festival ( Korea) and for two years in a row as the Asian Film Block director of the Broadway International Film Festival -Ensenada ( Mexico).
Before the entertainment industry, she was a Project Manager specializing in international business exchanges and has served as a management specialist for Fortune 500 companies. She is the Shanghai (China) Zhabei District Investment Advisor and currently serves as the vice chairwoman of the Maeya Culture Exchange Group. Given Ms. Tang's background, This international festival will unite the worlds of film, fashion and finance.
For more info, please go to http://umfilms.org/
Source: The Williamson Management on behalf of Lynn Tang
Share: