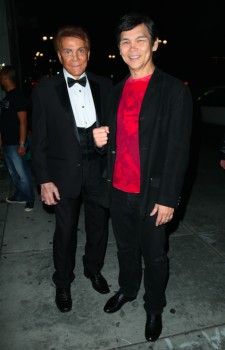 Martial Arts/Action Stars come out in droves to support the sold out premiere
Los Angeles, CA , March 17, 2017 (Newswire.com) - Legendary martial arts/action star came out in droves to support the sold out world premiere of Syndicate Smasher at the Downtown Independent Theater! In addition to the cast, celebrities in attendance were Hank Garrett (3 Days of the Condor, G.I. Joe, The Animated Series), Don "The Dragon" Wilson (Blood Fist, The Martial Arts Kid), Robin Shou (Mortal Kombat), Aki Aleong (Missing in Action: Part 3, The Quest) and many others.
"It is definitely a 'multiple Mob; ie. Chinese, Japanese, Italian, Russian etc. vs Special Forces movie and, if you like lots of action, check it out!," said Don "The Dragon" Wilson, three time WKA World Kickboxing Champion and holder of 10 world kickboxing titles in 3 different weight classes.
"Syndicate Smasher is one of the best action films I've seen in years with a great story and well developed characters the audience can truly care about," said iconic actor Hank Garrett, Martial Arts, Weightlifting and Wrestling Hall of Famer.
Noted Indonesian filmmaker and producer Benny Tjandra of New GenerAsian Films collaborated on this much anticipated crime thriller that is loosely based on a true story with co-director and writer Doug Tochioka.
Tochioka's script joins legendary cult star and Martial Arts Hall of Famer Mel Novak (Bruce Lee's Game Of Death, Samurai Cop 2: Deadly Vengeance) with action heroine extraordinaire Laurene Landon (Maniac Cop opposite Bruce Campbell and Sky opposite Norman Reedus), actors Joe Estevez (Dexter) and Arthur Roberts (Not of This Earth, Revenge of the Ninja), David Prak (Pirates of the Caribbean: At World's End) as well as multi award-winning actor/filmmaker Thomas J. Churchill (Check Point, The Rack Pack) and more for a story centered on a group of mercenaries, initially hired as contract killers, who find themselves targets of four powerful crime organizations and families. Guns go ablaze in this action packed tour-de-force, which presents an otherwise appealing little jewel for action movie aficionados.
"This film has the most guns, the most shots, and the most gangsters all in one movie fighting and shooting each other ever," said Tjandra.
Celebrated gangster fight exploitative martial arts figure Mel Novak is the ultimate bad guy and mortal enemy of every gangster mob outfit in the world———-" I kill em all, says Novak chuckling——that is The Chinese Triad, The Mafia, the Italians, The Russians, The Japanese all in one film!!"
Mel Novak , whose career has spanned over 30 years, has been in hundreds of films. " I have killed and been killed by the likes of legendary martial artist and screen legend; Bruce Lee in his epic, "Game of Death" and Chuck Norris in "An Eye for An Eye" and the late, great Jim Kelley in cult classic "Black Belt Jones."
Tall, leggy and extremely well-built statuesque blonde, Landon has enlivened a bunch of hugely enjoyable movies with her spunky energy, physical dexterity, bubbly, upbeat personality and considerable sex appeal. She often portrays tough, two-fisted, no-nonsense action heroines with a winning blend of fiery aplomb and cheerful good humor and definitely plays that role to the hilt in this film as the feisty Detective Carol Driscoll.
Churchill gives a great performance in a great character role as the fast talking Andy and Estevez is great as Detective James Beattie. Roberts is wonderful as hard nosed Chief Timothy Darcy. Rounding out the cast is David Prak (Pirates of the Caribbean: At World's End) as Dara.
Although this film stars many of the same stars as Samurai Cop 2: Deadly Vengeance, such as Novak, Landon, Churchill and others, this is a completely different kind of film.
Based loosely on a true story, and buttressed by unbelievable special effects, if you come up against Novak, Landon, Churchill and Estevez, it is a death wish as you will get smashed–SYNDICATE SMASHED! Don't miss it! This film is a great choice for action junkies to get their shoot 'em up binge fix.
More info at http://www.syndicatesmasher.com/
For interview opportunities and media coverage, please contact williamsonmgmt@gmail.com
Source: Syndicate Smasher
Share: