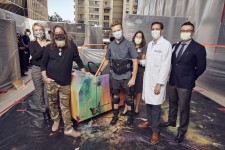 Medical Science Meets Healing Through Art Project featuring artists RISK and PER BERNAL in collaboration with The California Rehabilitation Institute, ARTISTS FOR TRAUMA (AFT), MOBY ARTS, Karen Michelle Lifestyle Brand and Sharpe Interior Systems, Inc.
LOS ANGELES, October 19, 2020 (Newswire.com) - ​​​​​​On Thursday, Oct. 15, there was a signature Healing Through Art Project featuring renowned artists RISK and Per Bernal Photography at The California Rehabilitation Institute (Cal Rehab), 2070 Century Park East in Century City. Cal Rehab did this event in collaboration with ARTISTS FOR TRAUMA (AFT), MOBY ARTS, Karen Michelle and Sharpe Interior Systems.
The LIVE painting experience showcased the cutting-edge art of RISK. In his iconic, creative approach, RISK transformed the industrial looking car simulator into a motivating, metamorphic, rehabilitative tool in the Cal Rehab fleet of resources.
RISK and interacting AFT artists such as Tommy Hollenstein, Paolo Moreno and Onosfre Banderas of LAFMob were professionally photographed by Per Bernal himself.
The live event was COVID-19 compliant with face masks and social distancing.
Cal Rehab offers the WT-960 TRAN-SIT® Car Transfer Simulator by Advanced Therapy Products, Inc. as part of its rehabilitation programs. The simulator is designed to provide a safe and convenient alternative to "parking lot" car transfer training sessions. This functional car simulator is a valuable addition to any rehab program and its life-like appearance adds to the realism of car transfer training activities.
WHO: Numerous celebrities and VIPs were present at this event such as Multi-talented fine artist, illustrator and graffiti artist, Kelly "RISK" Graval, all-time great physique photographer Per Bernal, COO California Rehabilitation Institute Alex Jawharjian, Laura T. Sharpe, President and CEO Artists For Trauma, Karen Michelle AFT Board Member and LA business entrepreneur, AFT Board Member and Global Disability Advocate Aaron Baker, Social Impact Advisor and AFT board member Kirk Scott, board member, Los Angeles Real Estate executive, and Civic Leader Christina Noonan, Natily Gonzalez, Founder of Moby Arts, American abstract impressionist painter Tommy Hollenstein, CEO, Global Creative Visionary and Entrepreneur Paolo Moreno, Ventura County artist Onosfre Banderas of LAFMOB, Fine Artist and AFT Ambassador Richard Bell and American Writer Ema Bell.
"ARTISTS FOR TRAUMA…where RECOVERY IS AN ART emphasizes our credo of CREATIVITY. CONNECTIVITY. COMMUNITY. We are grateful for our quality relationships with iconic artists and community businesses. We thank the survivors, thrivers, difference makers and influencers for joining us to support California Rehabilitation Institute in empowering life-altering trauma survivors and painting this car simulator for the hospital's patients. AFT manifests great impact to benefit other through the intersection of transformative art, medical science, commerce and community," said Laura T. Sharpe, President and CEO, Artists For Trauma.
More about the community partner artists:
https://www.instagram.com/perbernalphoto
More about the sponsors:
​https://karenmichelle.com/main
https://www.sharpeinteriorsystems.com/industry
https://www.californiarehabinstitute.com
Participating Artists For Trauma (AFT) Artists:
https://tommyhollenstein.com/about
https://www.instagram.com/ceopaolosanto
https://www.instagram.com/lafmob
Source: Artists for Trauma
Share: