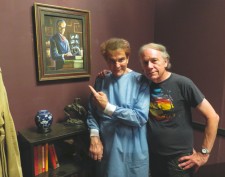 Los Angeles, CA , September 21, 2017 (Newswire.com) - ​​​Production has just wrapped in Los Angeles on the horror film "Tales of Frankenstein," starring Bruce Lee's "Game of Death's" Mel Novak and "Wolverine," creator Len Wein in his final film.
"I was lucky enough to know Len well enough to call him a friend. He was a great guy, a fantastic writer and actor and can never be replaced," said Novak.
This film has an Indiegogo campaign for post-production costs with lots of great perks at https://www.indiegogo.com/projects/tales-of-frankenstein-movie-post-production-horror--2#/
2018 marks the 200th Anniversary of Mary Shelley's classic novel "Frankenstein," so the goal of the film is to be released at that time to coincide with this momentous anniversary. This much-anticipated project is based upon four of writer-director Donald F. Glut's (#1 Best Selling Star Wars novel "The Empire Strikes Back") short stories published in his book Tales of Frankenstein: "My Creation, My Beloved," (a deformed descendant of Victor Frankenstein creates the perfect man and woman), "Crawler from the Grave," (another Frankenstein descendant's disembodied, plague-infected arm returns from the grave for revenge), "Madhouse of Death" (a private detective winds up in an old dark house filled with loonies...and a gorilla) and "Dr. Karnstein's Creation," (a mad doctor creates a monster in vampire-haunted Transylvania - with gruesomely unexpected results).
The film also stars Jerry Lacy (TV's "Dark Shadows"), Ann Robinson ("War of the Worlds"), Beverly Washburn ("Old Yeller"), John Blyth Barrymore ("Fake News"), Jim Tavare ("Harry Potter & The Prisoner of Azkaban), Douglas Tait ( "monster performer" in "Star Trek"), Robert Axelrod ("Power Rangers"), T.J. Storm ("Deadpool") and Jena Sims ("Sharknado 5"). The film features special make-up and effects by Emmy winner John Goodwin (TV's "CSI" franchise). This film is executive produced by Glut and produced by Edward L. Plumb. The production company is Pecosborn Productions and the distributor is Leomark Studios, who is handling worldwide sales and plans to be in attendance at the American Film Market in November.
Novak, who will be featured in the upcoming faith-based documentary, "Steve McQueen: American Icon" with Mel Gibson and Gary Sinise and recently wrapped the indie thriller "When it Rings" opposite Sally Kirkland.
Source: The Williamson Management on behalf of Pecosborn Productions
Share: