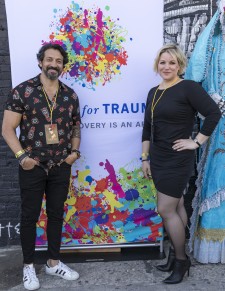 LOS ANGELES, June 27, 2019 (Newswire.com) - Ramblers Media Production (R.M.P.) held their CATRINA event on Saturday, June 22, 2019, at The Vortex at 2341 East Olympic Blvd, Los Angeles 90021.
A multicultural event dedicated to Las Catrinas, Day of The Dead and the amazing culture that surrounds it. CATRINA featured 50+ vendors, a themed art exhibit, live music, live body painting (CATRINA contest) and much more. This event benefited Artists for Trauma (AFT).
R.M.P. presented the highly anticipated Day of the Dead event in Los Angele,s where they brought awareness to the film CATRINA, directed by Fernando Gaviria, known for films Bad Boys II and produced by producer Danilo G. Santos.
Celebrities that were in attendance: Musical Guests, Two-Time Grammy Award-Winning Mariachi Divas, CNN Anchor Juan Carlos and Actor-Director Fernando Gaviria (Bad Boys 2, Catrina).
This event was for all ages from 4 p.m.-11 p.m., with face painting and activities for kids. R.M.P. had partnered up with Artists for Trauma to create a spectacular one-day event so they were able to continue their work. There was face painting, live painting, live portrait sketching, food, drinks, a photo booth, vendors and altars.
"I'm thrilled and honored to have hosted this esteemed event with such luminaries in the arts, media and entrepreneurship. 'Catrina' the movie is keeping the spirit alive by bringing traditional Day of the Dead elements," said Natily Gonzalez, founder of Mobyarts.
"Artists For Trauma celebrates the must-see film, CATRINA, directed by Fernando Gaviria and produced by Danilo G. Santos. CATRINA's metaphoric message to embrace and dance with death itself is the sacred pathway toward inventing a new self, following near-death experience," said Laura T. Sharpe, Founder and President of Artists for Trauma.
Source: Catrina
Share: