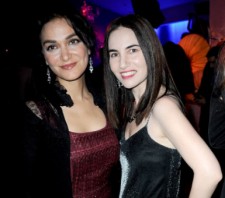 LOS ANGELES, August 3, 2017 (Newswire.com) - On Sunday, Aug. 6 at 4 p.m. at the Education Stage of the Los Angeles Convention Center, Scare LA 2017 will have the informative "The 7 Legal Pitfalls You Must Avoid Before Getting Into The Horror Entertainment Biz" with ScareLA's own renowned entertainment attorney Nadia Davari and her client, noted actress Vida Ghaffari (The Mindy Project, Holy Terror).
These ladies will take the stage to guide attendees safely past the horror entertainment industry's largest — and unexpected — pitfalls. Don't get taken advantage of and let Davari show you the way! To add a little practical spice, this seminar is moderated by Ghaffari, who herself has dealt first-hand with many of these pitfalls in her career, but overcame them all with Davari's expertise. Many of the ladies educational and often humorous experiences and anecdotes will be highlighted in this panel.
"It has truly been an honor to represent ScareLA and Lora, a young serial entrepreneur, and watch it evolve into such an informative and epic event," said Davari.
"I'm so thrilled to be part of this panel with my wise attorney and a part of this wonderful convention that was started by a woman. It's really great to be a part of the horror community with such knowledgeable and empowered women," added Ghaffari.
"I created ScareLA with the vision of bringing community together and celebrating our city's diversity in its most unusual forms. Halloween has an amazing tradition of self-expression and creativity and we bring thousands of artists, haunt entertainment professionals, horror filmmakers and fans to celebrate it early. ScareLA was first to bring Halloween to the summer and we are thrilled with the amazing response to our show and creating Halloween's first Comic-con," said Ivanova.
"As an entrepreneur it has been extremely important for me to have an A-class legal team to ensure our success and I could not be happier working with experts like Nadia Davari in this process. Her ability to look at the big picture and navigate the intricate landscape of show business has been key to our growth and I look forward to having her share her experience with our community at large this Aug. 5-6 at ScareLA," added Ivanova.
About Scare LA:
ScareLA premiered in 2013 as the first fan convention dedicated to Halloween. Situated in the entertainment capital of the world, it combines LA's top talent and unique setting with a twist! The weekend-long Halloween teaser celebrated California's scariest faire with attraction unveils, workshops, classes, industry panels, haunt tours, screenings and activities. Share, inspire, play - ScareLA.
About Nadia Davari:
Nadia Davari is an experienced attorney whose practice bridges the diverse realms of entertainment, new media, technology, start-up companies, corporate and business law. Ms. Davari works with a wide range of clients including digital media companies, new business start-ups, production companies, movie studios, television networks, investors, and "talent" representation. Among her many areas of expertise, Nadia has an extensive record of accomplishment in the areas of entity formation, corporate maintenance, content acquisition, production, distribution (domestic and international), finance, internet and new media issues ranging from capital structuring to intellectual property protection. Ms. Davari restructured international content licensing deals for MAVTV cable network and guided The Channel Factory and Planet Street through the process of establishing new media entities. At Taurus Entertainment and Dream Factory, she managed all aspects of "production legal." While at Gigapix Studios, Ms. Davari negotiated and drafted scripted and unscripted television production, animation series, documentary and feature film, acquisition and financing agreements. At GVN Releasing she helped management launch GVN Releasing and negotiated domestic and international distribution agreements with content providers and sub-distributors.
This smart and savvy attorney has represented a number of prestigious companies including WR Films Entertainment, Je'Caryous Johnson Entertainment, Konwiser Brothers, Entertainment Treasures, Film Roman, Starz Entertainment, the popular Geekie Awards, and ScareLA. In the past, Ms. Davari practiced law as an associate with the law firms Rosen and Anderson as well as Barnes Morris. Nadia graduated from UCLA with a B.S. in molecular, cell and developmental biology and attended USC Law School where she participated in the Hale Moot Court Honors program. Ms. Davari is also a guest lecturer at The University of Southern California School of Cinematic Arts. She recently guested as a legal expert on KCRW, KBEACH and LA Talk Radio and was profiled by popular blogs like Ms. In The Biz and the Hollywood Press Corps for her legal expertise.
More info about Nadia is at http://nadiadavari.com.
About Vida Ghaffari:
Vida has been active on the Tinsel town scene as an award-winning actress and voiceover artist. This comedic powerhouse is best known for her appearances on the television comedies, The Mindy Project formerly on FOX, Jimmy Kimmel Live on ABC, and Mind of Mencia on Comedy Central. These projects cap off a number of successes for the versatile starlet. She just wrapped a supporting role in Nation's Fire, which will be distributed by Universal opposite two-time Oscar nominee Bruce Dern, Emmy winner Gil Bellows, iconic action and horror film heroine Laurene Landon and UFC Champion Chuck Liddell. Her other film, the much buzzed-about Holy Terror, where she plays the pivotal role of Hayley, a very troubled young woman opposite legendary actors Mel Novak (Bruce Lee's Game of Death, Black Belt Jones) and Kristine DeBell (Meatballs, The Big Brawl). Holy Terror is climbing up the charts and is #11 on Amazon Prime UK. This scream queen has gotten local, national and international press from this project and was billed as "the Persian Linda Blair" from her work in this role by noted journalist Maurice Dwayne Smith at this link: http://coldheatnews.com/archives/7401 and here's Holy Terror's trailer: https://www.youtube.com/watch?v=CNjDmcCRAhY&t=3s
Vida also just shot Hybristophilia with Quinton Aaron (The Blind Side with Sandra Bullock). She will also be voicing a lead role in the three time Peabody award nominated The Suspense Show on XM satellite radio opposite Novak once again. In addition to voicing commercials, industrials and audiobooks, Vida made her animation voiceover debut alongside Fred Willard, Lisa Kudrow, and Janeane Garofalo in Lovesick Fool, a film festival darling created by Emmy nominated director and animator Dominic Polcino (The Simpsons, Family Guy, King of the Hill).
As an award-winning journalist and blogger of her self-titled blog, www.soveryvida.com, she has also worked as a red carpet correspondent and has interviewed many celebs ranging from Oscar nominees and winners to Grammy winners. Vida recently received commendations from the City of Los Angeles and the West Los Angeles Chamber of Commerce for her journalism and acting endeavors as well as an Entrepreneur Award from the World Networks, an Excellence in Media Award from the Los Angeles Nollywood Film Association and a Media Appreciation Award. Ever the fashionista, Vida recently graced the cover of noted fashion magazine FVM Global Magazine twice, Shine on Hollywood Magazine, and 1st Class Magazine and was quoted about her knowledge of red carpet fashion for the Oscars by US News and World Report. She was also named a blogger to watch by On Trend Magazine.
More info about Vida at:
http://www.imdb.me/vidaghaffari
More info about this event at this link:
https://register.growtix.com/schedules/view/104877
More info about ScareLA: https://scarela.com
Share: