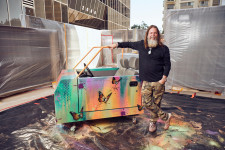 3 Big Community Outreach Events Used Art Therapy to Help Those in Need
LOS ANGELES, January 26, 2021 (Newswire.com) - Artists for Trauma (AFT), an organization dedicated to enriching the lives of civilian and military trauma survivors, found a safe, Covid compliant way to host 3 events at the end of 2020 to help those in need.
In October, world renowned artists Risk and photographer Per Bernal were featured in a "A Medical Science Meets Healing Through Art" live painting experience. Risk used cutting edge art to transform a car simulator into a motivating rehab tool benefitting patients. The AFT project collaborated with California Rehabilitation Institute, Moby Arts, Karen Michelle Lifestyle Brand and Sharpe Interior Systems, Inc.
AFT virtual "Exploration and Discovery through Watercolor Workshop", led by Zinnia Moreno was part of an inclusive, adaptive program with the 2020 Virtual Live Rollettes Experience. AFT volunteers assembled and shipped 50 watercolor kits that were sent to differently abled young girls between the ages of 8-14 across the United States.
"Sew to Slow COVID19" on behalf of the Lucas Museum of Narrative Art was a face mask donation campaign that took place in August and September. This campaign distributed over 7,000 masks to such organizations as The Midnight Mission, St. John's Well Child and Family Center Health Care Clinic (SLA) and several others around Los Angeles.
An extraordinary outdoor event at the Luxe Hotel Sunset in partnership with Karen Michelle Lifestyle Brand is slated for April 18th in Los Angeles. Additionally, they will be hosting and sponsoring Art Projects and Virtual Programs for Youth and Adult Trauma Survivors with a Holiday Fundraising Event to close out 2021. These events will be within COVID19 guidelines.
For more information on Artists for Trauma please visit http://artistsfortrauma.org
For interviews with Artists for Trauma founder Laura Sharpe, contact Kelli Schloemer 818-975-0391 or by email kelli@imagineprgroup.com.
Source: Artists for Trauma
Share: