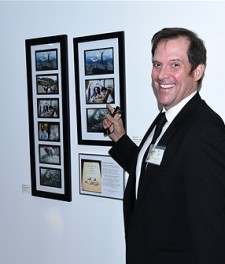 Redondo Beach, CA , August 10, 2016 (Newswire.com) - ​​​​​​​​Artists for Trauma (AFT) held their Adaptive Artist Multi-Media Art show at the noted ENGEL & VOLKERS SOUTH BAY. This AFT fund raiser and public awareness event was a great introduction to this worthwhile charity and their mission to empower adaptive artists recovering from life altering trauma and who utilize healing through artistic platforms to expedite quality recovery and reinvention of their lives.
The Artists For Trauma Adaptive Artist Multi-Media Art Show featured artwork by talented inspiring artists, utilizing various artistic disciplines following their life altering traumas that resulted in total life changes due to paralysis, spinal cord injuries, traumatic brain injuries, and PTSD. This opening exhibition featured artwork by members such as Melissa Allensworth, Andrew Angulo, Ford Austin, Richard Bell, Michael Hansel and Brandon Newcomer. 100% of All Art Sales proceeds benefited Artists for Trauma and the 5+ adaptive artists. AFT was founded by Laura T. Sharpe, who is a trauma survivor herself and selflessly wants to help other trauma survivors to be empowered, inspired and healed.
"We feel very blessed to have been embraced by Artists For Trauma and Laura Sharpe. We hope that with the support of AFT, we can shine a bright light of hope on the spirits of all trauma survivors and those overcoming PTSD,"

Ford Austin, Celebrated Actor (Bosch, Dahmer vs Gacy), Producer and Entrepreneur
Ford's loving wife, Lauree Dash, who was there for every step of his inspiring recovery had this to say, "I'm so grateful to Laura and AFT. Laura was an inspiration and huge support in Ford's recovery. She was an angel who paved the way for us showing us recovery was possible. She was a tangible example of the resiliency and the ability we all possess to heal. It is so vital to have a role model who shows you recovery is possible. The singing lessons AFT so generously provided Ford helped him regain his voice and helped his brain heal from his TBI. Engagement with arts provided a way for Ford to heal organically, and quickly," she added.
It has been a privilege and honor to work with Ford Austin and his loving, supportive wife Lauree, from the early months of Ford's near death, life altering traumatic car crash 5 years ago to his now inspiring and thriving quality of life recovery ; rich with empowerment and forward progress in his various artistic endeavors as a once again working actor, Lifetime member of the Actor's Studio, director, producer , writer and Artists for Trauma Ambassador. Artists for Trauma recognizes and respects the sacred trust of the individuals and families who partner with us in our integrative, healing through art programs during a most vulnerable period of their lives," added Laura Sharpe.
Numerous celebrities and VIPs were in attendance this event such as celebrated actor and AFT Ambassador Ford Austin (Bosch, Dahmer vs Gacy), his wife, Emmy-winning producer Lauree Dash, AFT Founder and philanthropist Laura T. Sharpe, actors Vida Ghaffari (The Mindy Project, Jimmy Kimmel Live), Mel Novak (Bruce Lee's Game of Death), Tom Choi (Teen Wolf, Agent Carter), Larry Thomas (Seinfeld's Soup Nazi), Marco Khan (Ironman, Camp X-Ray), Rick Mora (Twilight, Band of Pirates: Blackbeard's Map), Kristine DeBell (Meatballs, Samurai Cop 2: Deadly Vengeance), Dawna Lee Heising (Samurai Cop 2: Deadly Vengeance, Copperhead Creek), Lisa London (Samurai Cop 2: Deadly Vengeance, Dragnet), Anna Easteden (Two and A Half Men, Junkie), Motown Maurice (The Late Night Experiment with Motown Maurice), Elise Muller (Baghead, Parenthood), Frank Krueger (CSI: Cyber, NCIS: Los Angeles), Steve Moriarty (2 Broke Girls), David Banks (Tosh.0, Lovesick Fool), Donna Spangler (Beverly Hills Christmas, American Poltergeist), Mo Kelly (Warfighter, Killer Kids), actress/model Miki Black (CSI:NY, Las Vegas), Natasha Blasick (Days of Our Lives), actor/reporter Tyrone Tann (Lavanderia, Stauros Entertainment), entrepreneur/actor Shahe Assilian (Adin of California/Radical), Entertainment Attorney Nadia Davari, Faith Boutin, managing director of FVM Global Magazine and royalty such as HRH Prince Emad Zand II (Persian Zand dynasty), Architect, luxury interior and jewelry and accessories designer as well as luminaries in fashion and beauty industries such as Jade Martinez, celebrity makeup artist and founder and CEO of Moonstar Cosmetics), fashion designer Leontine Abdullah and jewelry designer Ziba Sabeti.
Engel & Volkers Southbay was the main sponsor for this event. Additional sponsors were AFT, Buiced, Display Art Installation, ICCS, Moby Arts, Sharpe Interior Systems, and Top Shelf Concierge Services-Luxury Transportation. More info at http://www.artistsfortrauma.org/
Source: The Williamson Management on behalf of Artists For Trauma
Share: